Customer Reviews
Thank you so much, you guys were amazing.
Vicky made the whole process so easy, and even calmed me down when I was stressed😂
And Sam, well all I'm going to say is I've found my new dancing partner!!
Highly recommend these guys.
They are all so friendly and lovely.
Once again thanks for making my daughters wedding go so well. Xx
The extra bridal pictures you took and sent to us mean so much aswell, as we couldn't have done that ourselves xx
Jo, Mother of the Bride., For Jess & CJ Wedding @ Sparkford Hall.
Jolly Hucksters were absolutely incredible from the very beginning. I was quite an early planner (2 years ahead!) and Vicky was nothing but attentive, and so informative from the beginning. She made the whole booking process an ease, and was always happy to answer any questions I had along the way. On the day I cannot even describe how amazing Vicky and the team were. The bar set up was spectacular, and the personalised board was such a nice touch. The cocktails went down an absolute treat, and were so delicious. We have had such amazing feedback from our guests and would 100% recommend them to anyone in search of a bar. Wish we could have the day over again, even if it's just to have one more of their espresso martinis!!! Thank you so much!
Steph & Ben, Reception, Hastoe Village Hall
Thank you to Vicky and her team for providing our drinks at our wedding. From the moment I booked, Vicky was great with communication & pricing; she even arranged for drink tokens and samples of beer to be sent out to us. The bar was decorated in keeping with our decor and looked beautiful. So many people commented on how lovely it looked and how tasty the cocktails were. The team were so professional and I am super impressed with how well they coped with what turned out to be the hottest day of the year.
Thank you so much and hopefully see you again!
Steph & Ben (Acorn Barn, 9/9/23)
Steph & Ben
Jolly hucksters and all their team really helped makes our wedding special. They where incredibly understanding and patient with our time line and changes etc. they adjusted there service for our needs and made delicious cocktails for each table. The decor of the bar added so much to our overall space and wedding. And the team where friendly. 10/10 all round would recommend to anybody x
Shelby Harvey, Wedding celebration
Vicky and the team at Jolly
Hucksters provided the bar for our
barn wedding and we cannot thank them enough.
Lovely friendly staff and cocktails our guests were raving about.
From the very first contact they have been amazing.
They had a
beautifully decorated bar which offered a huge range drinks (the
local cider was my favourite), all our guests were really impressed and
our day would not have been as amazing if it wasn't for them.
They were also a huge help when working
out what we wanted and were always very quick to reply with
advice and support, which made this part of our wedding stress free
to organise.
If we ever have an event in the future that requires a
bar we will always be going back to Jolly Hucksters x
Stephanie Porter
Couldn't have been better!

Vicky was so helpful all the way from booking to the day. Making sure every detail was perfect and we
hadn't forgotten anything and always responding quickly if we had any questions.
The setup of the bar itself
was stunning and drinks were delicious, especially the cocktails! We
would recommend them to anyone
Thanks again guys x
Katie Edwards
Myself and my partner were thrilled with the service we received on our wedding day. They had a fantastic array of drinks, the service was great and they were adaptable in working alongside the caterers there on the day! Thank you to Vicky and her team!
Lewis Cooper, Hadsham Wedding
We hired Jolly Hucksters for out Village fete themed wedding a month ago at Albury village hall and they were amazing! Great set up, decorations and drinks! 100% recommend
Lee Congerton, Wedding Celebration
Vicky and the guys at Jolly Hucksters delivered beyond our expectations. Everything, right from the start filled us with confidence. Communication, attention to detail and fulfilling our wishes were completed with speed, and a smile.
The bar looked great, and fitted into our garden party theme seamlessly.
I'm confident we had the best experience possible, and can't thank the Jolly Hucksters enough.
Jono Goodwin, Garden Party Celebrations
We hired Jolly Hucksters for our wedding blessing. The service was professional from start to finish. They are an amazing team who made the whole process run smoothly. Our guests all commented on how lovely the bar looked and all the special attention to detail in the decor, flowers, gazebos, lighting, seating & so much more. Highly recommended for any event.
Bern & Mich, Garden Blessing Bar
Vicky was great to deal with and took care of everything. The bar looked amazing, the staff were friendly and the drinks delicious.
We particularly appreciated
* Friendly, prompt communication
* Flexible option to provide our own toast prosecco
* Delicious cocktails and mocktails with fresh raspberries, passion fruit
etc.
* Set up and clear up all taken care of, with everything taken away
* Reusable stylish plastic glasses, meaning less waste.
* Beautiful bar with flowers for a really special party vibe.
Would definitely recommend Jolly Hucksters for your wedding or special event:)
Nat, Wedding-Silk Mill/Frome
Our Beautiful Wedding
We had the best day, the bar was organised
perfectly and made to look so beautiful.
The team made everyone feel at ease and we're both friendly and professional.
At every turn vicky and the team answered questions and went above and beyond to make our day easy and beautiful.
I would not hesitate to use Jolly Hucksters again:)
Zara Corby, Chenies Manor Wedding
Highly reccommend!
Jolly Hucksters attended our wedding and
were absolutely amazing! Very
accommodating and take special requests! Not
to mention their beautiful decor! The bar was a
hit with all the guests and the staff were lovely!
I would highly recommend JH for your next
gathering!
Heather Nurse, Wedding Celebrations
Would truly recommend Jolly Hucksters. Their attention to detail is outstanding. The service they provided to us at our event was amazing and everyone commented how helpful they were. I hope to use them again at our next event!
Debra Bovingdon, The Institute of Motoring
Incredible bar, amazing cocktails, great service. We booked Jolly Hucksters for our Civil Partnership celebration and the whole experience from start to finish was brilliant. Vicky was always quick to respond to any query and made sure to fully understand what we wanted for our reception. The bar itself looked amazing and the team were all lovely, professional and friendly. Despite a large number of people, there was never too long a wait for a drink and the range of cocktails was especially impressive. I would have no hesitation in recommending Jolly Hucksters, I am so glad they were part of our celebration.
Zarine, Celebrations @Ely Cathedral
We had jolly hucksters for our wedding and to put it simply, everything was amazing! The drinks selection was outstanding, the bar looked fantastic, all the little touches to help add to the experience were just the best. E.g
the menu with our names on, the decorationon the bar, the fresh flowers.. just immaculate!
We had a personalised service enabling us toorganise drinks tokens for our guests ahead of time (so we could stash them in our wedding favours!), which worked beautifully and went down a treat with the guests -nothing like an afternoon surprise!
We wouldn't hesitate to book Jolly Hucksters again, and in fact we're trying to find an excuse to do so ASAP!
Vicky had been briliant throughout
communication has been lightening speed and she's always been accommodating -nothing was ever too much. She really has
made our wedding day, the best.

Thank you so much:)
Natasha Bhogal, Natasha & Tim Wedding Reception
5* service and the best cocktails in town..!!
Vicky and her team were amazing right from the word go. Very friendly and approachable, happily answered any questions we had no matter how big or small. Drinks were flowing all night and Vicky and the team kept up with demand. Cocktails were AMAZING and good value. Vicky decorated the bar area and it looked beautiful.
110% recommend to all other Brides and Groom's to be.
Thank you Vicky and your team for being amazing:)
Natasha Bentley, Wedding Celebrations-Chenies Manor
Vicky and the team were fantastic at our recent Wedding. We organised our Wedding from overseas and Vicky's communication via email was excellent. On the day they blended decorations with the theme beautifully. All staff were polite and efficient throughout the day. The caretaker of the venue commented on how well everything was packed up amd cleared away as they found it, leaving little work for us to do after the event. Would recommend:)
Madeleine Brasier, Maddie & Pete Wedding
Brilliant mobile bar experience..!!
Jolly Hucksters ran a bar at our Corporate office party.
Vicky was great to deal with before the event-efficient & organised. On the night everything went smoothly and the cocktails were delicious + the bar area was really well decorated. This really helped add to the atmosphere of our event amd turn our office into a totally different space!
People that were drinking even wanted to try the mocktails as they looked so tasty.
Thank you so much Jolly Hucksters...
Emily, Ensoft
The Jolly Hucksters were absolutely fabulous throughout our Wedding event.
Friendly, professional and accomodating. Vicky, Sam and the team we really appreciate how wonderful you all were. Without a doubt we would have you at another special occasion.
Barbara - Mother of the Bride:), Jody & Luke's Wedding
Vicky & her staff were amazing from booking to the end of the evening.
We found them reliable, hard working, friendly and the bar was so well stocked.
No problems whatsoever and would highly recommend.
Lindsay Buchan, Joint 10 year Wedding Anniversary & 40th Birthday
Jolly Hucksters did an incredible job at our Wedding. They setup a fantastic looking bar, that practically every guest commented on.
They were well stocked, friendly and professional throughout.
Couldn't have asked for a better service. Thanks so much, Nats & Wil...
Will Griffiths, Nat & Wil- Farm Wedding
What a very professional outfit!!!
(Jolly Hucksters) Vicky & the crew provided refreshing Cheers & Beers to many parched cyclists returning to Misterton Hall, Lutterworth from riding in the warm summer air of Leicestershire & Northamptonshire. Alcoholic & non-alcoholic, they have it all !!
Richard Stannard, Rotary Club/ Big Bike Ride/300 Cyclists.
We had Jolly Hucksters provide the bar at our Wedding last weekend. Their service was top notch. The bar looked great, flowers matched our theme and the personalised touch of having our names on the menu was lovely. The selection of drinks was great, especially the cocktails that were very popular among guests.
I would 100% use this fantastic bar again in the future.
Charlotte Smith, Charlotte & Ian-Wedding Egginton House.
The bar was a hit at my friends rustic style wedding, beautifully decorated and really fit in well.
The team are all lovely and friendly and couldn't be more helpful. Highly recommend these guys! Thanks so much once again.:)
Yolanda Hance, Katie & Adam's Wedding -Red Brick Barn-Rochford
Wow!...what can I say.!!!
From First contacting Vicky to having her at our Wedfest.
The service was amazing (and it was the hottest weekend ever)
The bar looked stunning and the drinks choices amazing.
I want to do my wedding all over again, and if I did Jolly Hucksters would be my bar of choice ❤️
Thank you again, Kaleigh & Dave x
Kaleigh Payne, Kaleigh & Dave's Wedfest:) Wingbury Farm
We can't thank Vicky & Sam enough.
We hired them for our Wedding & everything from start to finish was great, the attention to detail really added to the whole day...ohhh & the cocktails went down a storm:)
Thank you so much Michael & Heidi.
Mike & Heidi Wedding -Great Missenden
Vicky & the team provided the most beautiful setup for our wedding at the Buckinghamshire Railway Centre.
The cocktails were absolutely delicious and very reasonable.
The team were all so friendly and there was never a long wait for a drink.
Nothing in the lead up was too much trouble- if you are considering booking them for an event do it quickly, best decision we made! Thank you!
Becca Jones, Becca & Sam Wedding - Quainton Railway
A very creative bar in both content and Presentation.
We must admit we hadn't really paid much attention to the bar during our Wedding Planning. Vicky and her team at Jolly Hucksters were amazing. They certainly did not feel like your typical hotel Wedding bar. They decorated the venues bar in a very thoughtful and creative way to match in with our scheme. They were also very flexible in operating from a very small serving hatch in the village hall.
They had enough staff to ensure their was never a queue and they were very smiley and friendly.
The drinks were sensibly priced and the table wine toast and arrival drinks package was very good value.
They also made sure I had a particular ale on request, and left me with the leftovers!
Thanks Jolly Hucksters for being a part of our special day.
Anthony Doran, Anthony & Emma Wedding Celebrations
We booked the bar for our marquee Wedding.
Jolly Hucksters were the best Suppliers we dealt with- they were very personal and had great communication. They asked me for my colour scheme to match the decor, which was a lovely gesture!
Vicky and her team are amazing, they are not your (usual) bar the variety and drinks choice is huge and the cocktails are amazing!
I can't thank you guys enough,
I will definitely recommend.
Camilla, Millie & Stevie- Festival Wedding- Swindon
WOW...Vicky and her team are AMAZING, great communication beautiful bar setup, amazing drink prices and the quality of drinks omg..My guests love a Cocktail and these did not disappoint !! The presentation and taste mmmm delicious.!! Honestly I could go on forever. Thank you Jolly Hucksters
Lorri & Jamie, Windsor Wedding Celebrations
Fantastic bar service from the Jolly Hucksters, with such a huge range of drinks for our guests and really helpful and friendly service.
The bar looked beautiful too! thank you.
Ellie Goodall, Wedding Celebrations Ellie & Ben-Evenley Wood Garden
We loved having Jolly Hucksters be part of our Wedding Day.
The bar looked beautiful & Staff were really lovely.
It was a shame the weather was a bit cold for our guests to completely enjoy the bar but we wouldn't of had it any other way.
Thank you Jolly Hucksters, we highly recommend using this company.
Emma & Craig, Wedding Celebrations
Vicky, Sam & all the bar staff that supplied our drinks throughout the day at our wedding were super friendly & did the most amazing job helping the day & night run smoothly.
5* cocktails, a great selection of spirits ales & lager all very reasonably priced. Not to mention the efforts they went to making the bar & surrounding areas look beautiful with a fresh display of flowers.
They turned up on time & were the last to leave, we would happily recommend them to anyone looking to hold a future event.
Thanks again for helping make our day so memorable!
Gary & Gemma
Gary Tuffee, Gary & Gemma/Hadsham Farm
Fantastic evening had by all at our recent 40th Anniversary!
So glad we picked Jolly Hucksters Mobile Bar Co to support us, pop up bar looked great.
Vicky & her partner were very friendly & accommodating, would recommend without question, thanks both.
Christina, Anniversary/ Murder Mystery:)Milton Keynes
Vicky & the team were brilliant from start to finish of our Wedding.
Responsive & Friendly communication, great service for all of our 200 guests.
A brilliant selection of drinks and it all looked lovely too.
We would definitely use Jolly Hucksters again- highly recommend them.
Flora, Wedding Celebration/200 guests
We hired the Jolly Hucksters for our 60 guest Wedding & were incredibly impressed.
The prices were super reasonable & the cocktails were to die for.
One of our guests has already said she wants to book them for a party of her own.
I am craving that Passionfruit Martini still!!...
Sarah Smith, Wedding-Wycombe Museum
Fantastic service & lovely people.
Vicky's attention to detail was incredible.
The bar looked amazing and it made the night for us.
Everyone was very impressed when they saw the setup.
I couldn't have asked for more..the Cocktails went down a treat aswell..:)
Debra Bovingdon, The Institute of Motoring
Very professional service.
The bar looked amazing, the flowers were beautiful, the bar was very well stocked & Staff were friendly.
Vicky kept in touch from booking through to the Wedding so I never had any concerns at all.
I would thoroughly recommend Jolly Hucksters
Anna Leney, Wedding Celebrations
Had Vicky & the Team join us at our Wedding Reception. They were all really friendly & professional.
Vicky took all our needs & considerations into account & had a large range of drinks available.
The cocktails were a Favourite and the bar was beautifully decorated!!
Would highly recommend and use again in the future.
Thankyou all:)
Laura Jones, Wedding Celebrations
Jolly Hucksters provided a mobile bar service with premium spirits, beer cider and cocktails for our Wedding. It was a joy to work with Vicky and her team, they were professional and easy to talk to throughout the whole planning process. They arrived in advance of our reception and setup the bar beautifully with fresh flowers that matched our decor.
We received many compliments on the bar from our guests, and the service was extremely fast on the day.
We would certainly recommend Jolly Hucksters, they were fantastic:)!!
Chandni Sahonte, Wedding Celebrations / 140 guests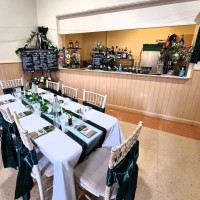 Thank you so much for all your hard work at our Wedding Reception.
You went above and beyond making sure the bar was decorated in a way that matched our colour scheme and flowers.
The presentation was amazing and the staff were even better.
Francesca Grace, Wedding Celebrations/ 70 guests
Jolly Hucksters made our special day even better!
From communication and ensuring the setup went smoothly to the drinks choices and decorative options.
They definitely went the extra mile with detail and we thank Vicky & the Jolly Hucksters team so much.
The perfect mobile bar for our Wedding ar Silk Mill, highly recommended.
Many thanks
Emma & James
Emma Johnson, Wedding Celebrations/ 80 guests/Somerset
OMG.. the bar!!! Well where do I start. First of all Vicky is AMAZING. She spoke to me numerous times, answered my WhatsApp that I sent at silly o'clock regarding Cider flavours going round my head!! Vicky reassured me all through the process, and on the day it was like a dream, amazing drinks, smiley faces and gorgeous setup.
It was all so reasonable priced when I asked for a quote.
Honestly if you're looking at this and thinking hmmmn I'm not sure.
Just book them it will be the best thing you ever do.
Thanks Vicky & the Team you were Amazing.
Diane, Wedding Celebrations/ 80 guests
I and my guests recommend Jolly Hucksters Mobile Bar Co for your event. They transformed our Community Centre with their permanent looking bar. Vicky and her staff are so professional.
They certainly contributed to the success of my Happy Party.
Shelia Lester, Birthday Celebrations/110 guests
We used Jolly Hucksters for our Wedding and we were blown away with the whole service.
The attention to detail with the Birdcages and decorations on the bar was amazing!!
Guests loved the drinks choices and said how pretty the setup was..well priced drinks menu too.
It was such a pleasure to have Vicky & the team at our Wedding.
Highly recommend Jolly Hucksters, you won't be disappointed!!
We will de be using Vicky and her team for future events:)
Rebecca Stephenson, Becca & Dom Wedding Celebration
Vicky & the Team did a great job keeping our guests well lubricated during our recent event!!:)
William Rhodes, Christening Celebration
Jolly Hucksters were brilliant from the start. Vicky provided great communication and they were very thoughtful with their setup, providing flowers to suit our theme. They had a great collection of drinks and are very reasonably priced. Our guests had alot of nice things to say about them aswell. Thank you for adding to our Special Day.
Michael Berwick, Wedding Celebrations Mike & Soph
Vicky & her team are absolutely fantastic. Not only were the drinks & variety of drinks amazing but the decor was brilliant. Vicky asked for the inspiration and for the theme and colours used & herself & the whole bar team made the bar area look brilliant.
Everyone at the Wedding was blown away by the variety of drinks, the service and the unique beers & ales. Staff were super friendly & lovely & really fitted into our Wedding. We are so thankful that we found these guys. Vicky is very responsive to emails & just all round brilliant. Thank you guys so much.!! Beki & Jamie x
Beki Gregory, Wedding Celebrations
Absolutely amazing bar & Staff.
Great prices & great selection of drinks, something for everyone.
Service was fantastic would recommend for any occasion...
Katie Parker, Wedding Celebrations
The Jolly Hucksters were exceptional from start to finish for our Indian Wedding Ceremony. From the moment we reached out to Vicky, she spent time getting to know what we wanted in both a professional and super friendly manor, and on the day itself they absolutely smashed it!!!...They decorated the bar beautifully to match our venue decor, they provided incredibly quick service to all our guests and the drinks of course were amazing. They also worked well around our Indian Ceremony to make sure the drinks were served at exactly the right times....nothing was ever any trouble for the team. Thank you for helping us to bring our dream Wedding to life...I'd definitely recommend the Jolly Hucksters to anyone and everyone:)X
Reesha Siniara, Wedding Celebrations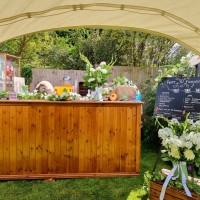 Vicky & the Jolly Hucksters were fantastic in the leadup, during and after our Corporate Work Anniversary. The staff were good fun, drinks amazing & the bar looked fantastic. Vicky was really easy going and helpful & the prices were fantastic to match.
We would wholly recommend the Jolly Hucksters to anyone and everyone and hope to see them again at our next function!!!
Leah Gomez, Group B
Vicky & the team arrived in great time and had the bar setup beautifully before any of the guests arrived.
The staff were friendly, had good choice of drinks and didn't seem to run out of anything, even though I'm pretty sure most of the girls were drinking Passionfruit Martini's!!!..
There was great communication from Vicky from the minute we enquired right through to the Wedding Day
Definitely glad we chose them:)
Nikki Hall, Wedding Celebrations
Would totally recommend Jolly Hucksters to all my family & friends. Vicky is just amazing & nothing is too much trouble. The service herself & her staff provide is 100% and now I wouldn't use anyone else. Even to the colour scheme of the day/ she even matches the flowers on the bar. Great service would score them 10/10. Thanks again Vicky the Jolly Hucksters are the best...
Joanne & Mark Husbands, Silver Wedding Vow Renewal
I loved the bar so much...
Jolly Hucksters went above and beyond what was promised.
They matched the Harry Potter theme perfectly. Highly recommend...
Jemma Knight, 18th Birthday Celebrations
We had Vicky and her wonderful team join us this weekend for our wedding & what a day they made it!! Vicky went above and beyond in making sure everything was perfect. We had several phone calls & a meet up to go through everything nearer the time. Numerous emails and always such a fast reply to reassure me while having one of my Bride panics!! Nothing was ever too much. The bar was made up to fit in with our colour scheme with fresh flowers & some artificial. It really did compliment our marquee...it looked beautiful.
Finally the most important part- choice of drinks..They had absolutely everything we wanted. The lager and Ale was kept at perfect temperature even in the warm weather we had. We had a great variety of wines/ciders/spirits and top shelf. Vicky even made us a cocktail menu up with all our faves and made it special & personal to us.
All day & night our guests were saying what lovely staff & beautiful setup.
I really cannot recommend Jolly Hucksters any more if I tried... THE BEST mobile bar...
Lucy & Wes Sheasby, Wedding Celebrations/ 150 guests
On Saturday we were lucky enough to have Vicky do the bar at our Wedding.
Since speaking to Vicky in February to arrange this, I feel like I have known her for years.
Nothing was too much trouble and the attention to detail was second to none.
The bar area and the outside welcome drinks table looked amazing🥂
Should you be looking for a mobile bar to do your event Jolly Hucksters is definitely the one.
Thanks again Vicky your a 🌟xx
Susan Pretty, Wedding Celebrations
Vicky & the team at Jolly Hucksters did the bar at our Wedding last weekend and did an absolutely fantastic job.
Such a friendly team that bent over backwards to figure out what our day would look like amid the Corona restrictions.
They brought beautiful flowers, lovely hand drawn menus and friendly faces that really made our day fantastic- can't recommend them enough ❤
Lauren & David, Wedding- Chenies Manor
Wow what can I say about Vicky, amazing Company and Lady.
She recently did my Wedding which was supposed to be post lockdown, but Boris threw a curveball!!
Vicky took it all in her stride and came up with ingenious ideas on adhering to the Guidelines and even took time to call to reassure me.
Originally we had planned for 150 but numbers dwindled slightly but not much and Vicky was very accommodating.
Thank you again for being part of our Special Day.:)
Alice Whiteside
Highly recommend Vicky and the team at Jolly Hucksters Mobile Bars. They were so accommodating, nothing was too much trouble. Cocktails were delicious and guests were so complimentary.
I would definitely use them again.
Bhaven Vaghela, Bella's 40th Celebration's/ 50 guests
100% perfection in everyway...
Amazing service, really friendly, great sense of humour, and fitted into our day like they were part of the function.
The decoration and attention to detail was amazing making it unique and special!!
Highly recommend the Jolly Hucksters to anyone.
Fun, friendly and reliable with such a great range of tasty drinks to offer :)
Rebecca Drane - Birthday Girl
Jolly Hucksters provided a first class bar service for our event.
The bar was very well presented with an excellent range of drinks.
We loved the personalised drinks board and their care and attention never wavered all evening.
They provided wine tasting beforehand which ensured we were happy with what was served.
They cleared up effortlessly and left everything spotless.
We will definitely use them again.
Julie Burton-Mother of the Groom /40 guests
Jolly Hucksters were the perfect bar for our wedding. They were flexible,helpful, Kind and helped to bring the personal touch to our wedding that we were after. I wouldn't hesitate to use them for future events.

Emma & Tom
Emma Richardson- Bride/ 40 guests
Amazing!!!
I am so glad I came across Jolly Hucksters. I had many bar services getting in touch with me back in February, but I'm so glad I chose Jolly Hucksters.
Vicky was so professional from the beginning to the end. I had great communication with her and the team and they definitely provided an amazing service.
The prices were fair, service was amazing and the variety of drinks offered left my guests very satisfied.
They even decorated the bar to tie in with my event, which I LOVED.
Thank you - Gurpreet
Gurpreet- Bride- Pre- wedding party/ 150 guests
We cant thank Vicky enough for such a fantastic service from start to finish. She supplied us with ales and ciders we wanted after helping us with some suggestions. She paired the bar decorations with our party colour scheme. The bar looked fantastic on the night and along with her staff provided a fantastic service.
I would not hesitate to recommend Jolly Hucksters and would definitely use them again.
Sue- Engagement Celebrations
The customer service from start to finish was excellent. Lots of attention to detail.
I would definitely recommend Jolly Hucksters to others.
Michelle-Engagement party
You won't get better !!!
My wife and I hired Jolly Hucksters to provide the drinks and bar on our wedding day and the service and selection of drinks was exemplary.
They made sure that there was enough drink for everyone (all 170 of us) also there was plenty to choose from.
Everyone involved were polite and keen to help.
We frankly couldn't have asked for better and would definitely recommend them to anyone else hosting a big event.
Mike & Lizzy Code, Newlyweds/ 170 guests
Jolly Hucksters have run the beer tent at our festival since we started back in 2008. Folk by the Oak has over 7000 festival goers and Jolly Hucksters are able to serve beer extremely efficiently.
I wouldn't hesitate to recommend them to anyone organising an event of any size.
Adam Slough, JSL productions/ 5000-8000 visitors